For the fellow SUMPOD owners wanting a quick start to getting that first 3D print.
Well, the files are now available to start you off on getting your first print off the platform. The printing speed is going to be slow and steady with the first layer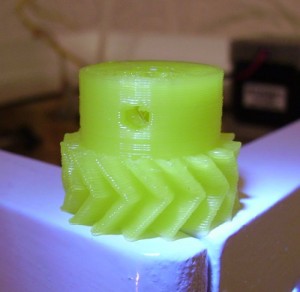 going down the slowest. The settings have been adjusted so that a complex build with a lot of vertices can be printed in high quality like the Wades herringbone pinion gear. This should allow you to test the calibration of your printer.
For less complex prints you can crank up the speed up by de-activating the Cool plugin in Skeinforge. If the build looks like it's going to be messed up, you probably trying to print it too fast. Adjust the speed by changing the flow rate and feed rate settings under Speed in Skeinforge.
For SD Card users, de-activate Cool plugin in Skeinforge and see how fast you can go by adjusting the flow rate and feed rate settings under Speed in Skeinforge. You should be able to print complex builds much quicker, without spoiling, than those printers without SD Cards.
The settings under Cool in Skeinforge makes the build take at least 60 seconds to print each layer. Any layers that are going to take more than 60 seconds to print will not be affected by this. The bigger the layer the faster the print speed, up to the feed rate set under speed in Skeinforge.
I've added all the files in Skeinforge profile with all the settings used to print the gcode file that is also included. There is also the STL file used to generate the gcode with an image of what it should look like. Unzip the file and place the SUMPOD_PLA folder, that contains Skeinforge settings, in to the profiles directory. Mine is stored in "C:\users\mark\.skeinforge\profiles" on Windows 7. You should fined yours in the similar area.
If you're having difficulties with the files, please use the forum at the SUMPOD Web site www.sumpod.com. This will allow other SUMPOD users to get involved to help solve the issue.
Download this file for the settings: skeinforge_conf